Utah District Court
CMECF Updates
Early Issues/Experiences in CM/ECF
In the first three weeks of CM/ECF, the court and attorneys have confronted the following issues related to out of court users, all of which have been resolved:
A law firm email server blocked CM/ECF emails with Notices of Electronic Filing because the recipients are all designated "bcc" which apparently resembles spam. This issue was resolved the first week.
Some attorneys have not realized that the Notice of Electronic Filing (NEF) has a link to the document filed. Instead of taking the "free look" authorized by the NEF, they have logged into PACER to view the docket and documents.
Some challenges with conversion of old ICMS stored images were resolved, and all images from the former docket management system are now loaded into CM/ECF and available through PACER.
One law firm asked that all NEFs meant for the firm come to only one email address, to facilitate central calendaring. The firm did not understand that each attorney may designate up to three email addresses on the attorney's account, making it possible for an attorney to designate the attorney's email address, a staff member's address and a central calendaring address to receive all NEFs for that attorney. The law firm later designated multiple addresses for each attorney.
Another law office reported that all the Notices of Electronic Filing (NEFs) it received were stripped of links. No links to case dockets and no links to documents filed. Apparently, the e-mail security software at that office stripped the hyperlinks from the NEFs.
The docketing backlog anticipated with the transition to CM/ECF never occurred. Other courts reported large docketing backlogs -- of several weeks -- as the courts began CM/ECF. The
District of Utah has not experienced any significant docketing backlog
, due to substantial advance training and preparation, extraordinary efforts since May 2nd by docket clerks, the past several years' experience scanning most items for the record, and the availability of two high speed scanners.
Most chambers' staff have reacted favorably
to the ease of sending Notices of Hearings in CM/ECF and docketing selected orders, some without accompanying documents. The court has not heard of any confusion from attorneys about these Notices of Hearings or Docket Text-only orders.
The court is internally referring to the stage of electronic files and filing by court staff as
Phase I
of Going Live and the later stage of attorney filing as
Phase II
. In the past three weeks, numerous
refinements
have been made to the court's internal CM/ECF procedures based on the experience obtained in Phase I. By Phase II, when attorney training and registration begins in July, the court anticipates most purely internal wrinkles will be worked out, and the adjustments to attorney filings can then begin.
Attorney CM/ECF Training Outlined
Today the Court Technology Committee (consisting of lawyers and court personnel) discussed the outline for attorney training on CM/ECF.
Trainers will be trained first
. That is, law firms or agencies may designate a person who will be trained as a trainer for law firm staff. That trainer will be given detailed information and manuals to allow them to provide support for their law firm or agency. Trainers will be trained in late June and early July 2005 for those who were part of the pilot filing project, and in August 2005 for other trainers. Trainers will be receive three hours of training and substantial training materials.
Individual attorney training
is projected to start in August 2005 and continue through September 2005, with sessions each Tuesday, Wednesday and Thursday. In late September, the need for more training sessions will be determined. Individual attorneys will likely be trained in a 2-3 hour session, which may include some ethics issues, such as privacy protection.
Trained attorneys may register
and begin to electronically file after August 1st. Those attorneys in the pilot firms may be trained and filing anytime after July 1st.
Archiving Has Begun!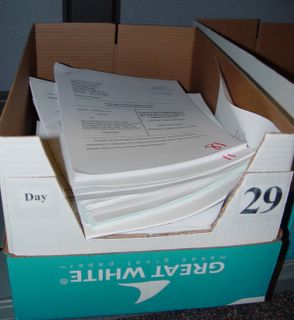 This is the
first box of papers docketed in CM/ECF.
They were filed on April 29th and
are stored in a box with that date
. The official court record is the electronic file, so these papers constitute an archive. It is anticipated that a
future agreement
between the National Archives and Records Administration (NARA) and the Administrative Office of the U S Courts, consistent with the NARA
Electronic Records Archives (ERA)
Program
,
may allow the electronic record to be sufficient for archival purposes
. After that time, the paper chronological files might not be needed.
First Day Shakeout
No signficant mishaps
on the first day of public CM/ECF operations. However,
two e-mail related issues
may require the attention of law firm technical staff. All e-mails directed to one large office bounced -- because CM/ECF e-mail recipients are shown as "bcc" recipients.
Many mail filters block "bcc" e-mail as suspected spam
. Another large office reported that all the Notices of Electronic Filing (NEFs) it received were stripped of links. No links to case dockets and no links to documents filed. Apparently, the
e-mail security software at that office stripped the hyperlinks from the NEFs
. Court MIS staff is working with these offices to resolve the problems.
Court staff were enthusiastic
about the CM/ECF system. "Notices of hearing are so easy to send." "Docket text orders save a lot of time." "Its simple to docket orders in chambers."
Chambers are
comparing
notes on the use of
summary NEFs
-- that combine all NEFs for a day in a single e-mail with
discrete NEFs
on each filing. The discrete NEFs can be managed individually, while the summary NEFs are much more brief.
District of Utah is Live on CM/ECF!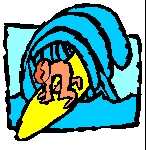 The Court is on the Wave!
The court began its
first official day of operations
with electronic case files this morning. In the first few hours
no significant issues
have been reported.
Images
are already imported for cases filed in 2004 and 2005, making the database very usable. Images continue to be imported, finishing the conversion process.